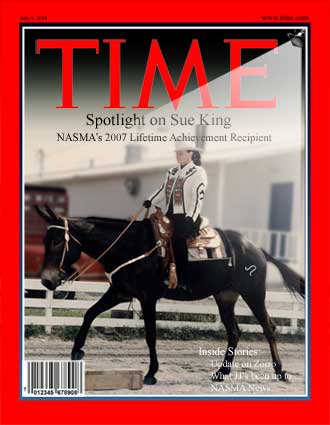 One can only mention Sue King's name and you should know what all she has done for the mule and donkey industry. That would be my vote for this year!
Sue was nominated five separate times this year!

Sue and her husband, Jim Joling, Brayer Hill Farm, started in 1985 in Missouri. The farm moved to Boyd, Texas in 1989.

They are committed to the promotion of the saddle mule as the equine of choice for trail riding, showing, ranch work and family activities. In 1992, Sue started The SADDLE MULE NEWS, a magazine devoted to the mules used under saddle and in light harness.

Jim, a retired executive in the telecommunications field, has served NASMA as Ways and Means Chair.

They helped found the North American Saddle Mule Association as Charter Members. Sue served as Executive Secretary for the first five years of NASMA's existence and, then again, in 2005 to 2008. It has been an honor for Sue to see the Association grow to include, not only saddle mules, but also donkeys and draft mules.

The philosophy of Brayer Hill Farm includes the belief that mules bred from quality mares and jacks are the best saddle equine one can have. When bred from quality donkeys and mares, their conformation and attractiveness is comparable to horses. When raised and trained properly, their temperaments are generous. Mules are unquestionably superior trail mounts with their surefootedness and donkey intelligence and sense. Mules are fast proving they are competitive in shows and competitions. But, most important, mules share a very special bond with their owners, one of mutual respect and cooperation rather than dominance. For this reason, mules endear themselves to a very special kind of owner and rider.

Brayer Hill Farm also believes that the time has come for the old stereotypes of the "stubborn" mule to end. It is now time for the mule to overcome the image of a work animal and move into the twenty-first century as a leisure and companion equine.