It is NASMA's honor to inform you the Board of Directors of the North American Saddle Mule Association has awarded you the 2008 Lifetime Achievement Award.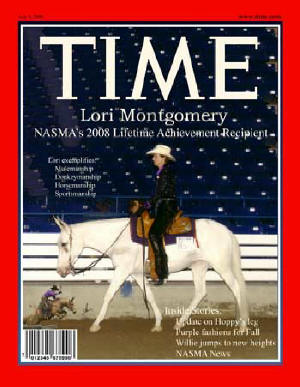 Lori Montgomery exemplifies mulemanship, donkeymanship, horsemanship and sportsmanship.

Lori grew up showing Saddlebred horses and later galloped Thoroughbreds at Keeneland Race Track where she met and married her husband Hoppy Montgomery.

In February of 1998 a friend called Lori and told her about a little mule that needed a new home. Lori had always wanted a mule but had never been around one. The next day she and Hop drove in an ice storm and 18 degree weather to pick up Willie. Lori recalls what a wild son of a gun he was and often looks back at how far he has come and how much trust he now has in her.

Willie has competed in 4 Extreme Cowboy Races and won the Ohio Equine Affair Extreme Cowboy Race in 2008. They have also appeared on RFD TV with Craig Cameronís Invitational, introducing thousands of viewers to the wonderful abilities of mules.

Lori is also active in NASMA with both Willie and her beloved show mule Fancy who has numerous Championship titles to her name including a World Championship Title. Lori also spends time with her Grandson Christopher helping him compete with Willie in the NASMA Youth division.

Lori is always willing to lend a helping hand with advice or helping to show donkeys, saddle mules and gaited mules. She is a devoted and accomplished equestrian.