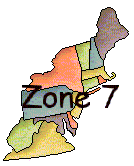 Bridgman Stables - Jack, Mary Lou & Farley Bridgman
2213 Centerline RD, Varysburg, N.Y. 14167
Phone: (716) 535-7163, Fax: (716) 535-0296
MuleMom1@aol.com or FarlsMule@aol.com

Owns and raises, sells mules. Owns and sometimes sells donkeys. Stands a performance jack. Shows both mules and donkeys and is a NASMA member.

Kiss My Ass Donkey & Mule Farm - Harvard Meyer, Owner
Elizabeth Clery, Manager
861 Jamison Rd, Elma, NY 14049
Telephone: 716-655-3687 - Fax:716-655-2710
E-Mail: Lizmeyer@Yahoo.com
Own, raise, sell and show Mules & Donkeys. They stand a performance Jack, "SCR Dexter's Pride Jose", who has "refined bone that produces exquisite Saddle Mules with color galore!" They are members of NASMA.

The Paint Pony - Georgianna (Chip) Watson
8 St. Michael's Lane, Walden, NY 12586
Phone: (914) 778-7102
ugo202@exmail.usma.edu
Owns mules, shows, sometimes sells mules, but does not raise them. Does not own, raise, or sell donkeys.

Joan Lee Parkes
6 Duncan Drive, Campbell Hall, NY 10916
Phone: (904) 496-8234

Click here to have your mules, hinnies or donkeys listed too!